I am looking for BOYCE and MYERS (Meyers/Mires) ancestors.
Peter Myers born 1777 in USA resided in Upper Canada since at least 1790.
and from 1831 until his death in 1866, near Campbellville, Nassagaweya, Halton County, Ontario Canada.

(Other Ancestors in that line include Waldie, Davidson, Crozier, Blythe, Little, Beattie, Anderson)

James Boyce Sr. and his wife Jane (Myers) Boyce probably married 1843:
My great great grandparents
They disappeared sometime after the birth of their 3rd child James Boyce Jr. in 1848. Their mystery of their disappearance is compounded by the loss/damage of the 1851 Canada Census data for the Township of Nassageweya, Halton County, Ontario where they probably lived. Their 3 young children were raised by others. The family story is that James Boyce returned to England for a family emergency and never returned. This doesn't seem realistic.
I suspect James and Jane Myers Boyce had a marrage breakup. Later Boyce family generations never acknwledged the existence of Jane Myers Boyce beyond 1850, but we have now found she remarried some years later and had at least 2 more children(see below). And she always lived relatively close to her "Boyce" children, so they had to have known her circumstances... yet none of that was relayed down to later generations.
The marriage records for Herbert Boyce (married-1870) and James Boyce Jr. (m-1872), indicate James Sr. and Jane Boyce were their parents. A death record for James Boyce Jr in 1937 indicates James Boyce Sr born in England and Jane Myers born Ontario, were his parents.
James Boyce Sr.
: my g-g grandfather (born 1810-25 ?)
Family history carried down said he was born in England (has not been verified) probably about 1810 - 1825 and maybe arrived in Halton County, Ontario area about 1840 - 1843. The family story is that he may have been a school teacher or worked as a minister. Very little official documentation has been found to support the family stories.
James Boyce Sr. married Jane Myers. From 1843-50 to 1850 they probably lived in either Nassagaweya Township, Halton County area - or Beverly Township (which was part of Halton County until 1854). They had 3 children Herbert, Mathilda and James Jr.
If, in fact, they did separate James Boyce Sr. may have moved to another township/county and perhaps remarried. There seemed to be quite a movement of people from Ontario into Michigan as settlers got out of the tough life of farming and into working in the growing towns of the U.S., so perhaps James Boyce Sr. moved that way. Jane Myers Boyce declared herself a widow and remarried in 1876 (see below). Since she had been living with Thomas Tynan since at least 1859 (birth of Timothy), perhaps she could not get officially married to Thomas until the death of James Boyce could be confirmed. This also suggest perhaps James Boyce was older than Jane by many years.
Jane Myers
: my g-g grandmother (born 1826)
The daughter of Peter and Eunice Myers. Her son James Boyce jr. lived with grandfather Peter Meyers on the 1861 Canada Census. On James Jr's marriage and death record Jane Myers is named as mother.
We have recently found Jane (Myers) Boyce remarrying Thomas Tynan in 1876 in Wentworth County, Ontario very near to her parents home in Campbellville, Ontario. On the 1876 marriage records she stipulated she was a widow and Peter and Eunice Myers were her parents. She used the name Jane Boyd but this was probably a transcription error from one record to a formal document. . She also indicates she was a widow, but we are not able to verify that. Thomas and Jane Tynan (Tyamen) are on the 1881 census with Thomas's son Timothy aged 24. From later US census it is stipulated that Jane is Timothy's mother. On the 1901 U.S. census Jane indicates she has borne 9 children, 5 of which are still alive (3 Boyce children, and Timothy and Mary Tynan). Timothy Tynan later changes the spelling of his name to Twyning.
Peter Myers
: (born abt 1777 in USA) my great great great grandfather.
Jane's father - Peter Myers (Meyers/Mires). In the book "The History of Nasagaweya" by J. Norrish, published 1888 on page 70, Norrish says in 1832 Peter Mires acquires land near Campbellville, Ontario. The property was the north west corner of Concession 4, Lot 7, Nassagaweya Township, Halton County (Peter would be 50+ years old). (The property is now fronted by the Nassagaweya Tennis Club facility on Guelph LIne Road just north of the Campbellville 401 freeway interchange).
Peter is on this property in the 1842 Ontario Land Census, and the 1861 Canada Census. On both Census he states he was born abt 1780 in the USA, and came into Canada soon thereafter.
-On the 1842 Census, he indicates himself (1 MM 60+) and 6 young people (1m, 1F aged 0-5, 2F 5-14, 1M 14-18, 1M 19-21). He does not indicate any Married Females (MF) living with him.
-On the 1842 Census he indicates he has been in Upper Canada 50 years - since at least 1790. (The question on the census was "how long he had been in the Province" - since the province had only been in existance for 50 years perhaps that was the maximum number of years allowed. He may have arrived in Canada earlier - with parents?)
-On the 1842 Ontario Census the land is designated as "Deeded" indicating Peter Myers purchased it (presumably from Patrick Marshall who resides on it in 1830)
-On the 1861 Census with Peter is: his wife Eunice (whose name is later verified on 1871 and 1881 census) born abt 1800 in Upper Canada; grandson James Boyce aged 11 (my g-grandfather), and Jane Myers aged 15 (another grandchild?) - occupation servant. I assume 15 year old Jane Myers is a granddaughter, the daughter of Elijah Myers.
I believe Peter Myers dies in 1864 as I found a newspaper article that describes a sensational story of a 119 year old man dying in Campbellville by the name of Myers. Campbellville is only about 500 meters from his property. The likelihood of anyone living to 119 years of age at that ime is unlikely. I believe a calculation error of 30 years was made, and it was Peter Myers who died at about 89 years of age.
Eunice Myers
: (born abt 1798 Upper Canada) my g-g-g grandmother
Was born in Upper Canada abt 1800 according to the 1861 Canada Census. The 1871 and 1881 census show a slight variation of the year so may be as early as 1797. She is not present on the 1842 land census with Peter Meyers. On an 1875 Halton Map she still resides on lot 7 con 4 in Nassagaweya. Her death is recorded by Elijah Myers in 1886 and he states he is her son but also that she was born in New York State abt 1796.
I originally presumed Eunice was a 2nd wife, as she was not present on the 1842 Census. But Jane indicates Eunice is her mother on the 1876 marriage records, and Elijah declares Eunice is his mother on her death record (so perhaps an error was made on the 1842 census, or Eunice was visiting or assisting a married child elsewhere at that time).
Myers Property - Concession 4, Lot 7 Nassagaweya Township, Halton County
:
Peter Myers/Meyers/Mres acquires the property in 1832 (see above). Eunice Myers resides on this property until she dies in 1884. (The property is bordered by Guelph Line Road and Campbellville Road - about where the Nassagaweya Tennis Club resides today). We have documents, showing Peter Myers transferring the land to Elijah Myers in abt 1862. Elijah sells the land in 1886.
Other Children of Peter and Eunice Myers
:
- Son Elijah Myres (born abt 1818) marries Lydia Ann Misener abt 1843 and they have 11 children.
- Daughter Elizabeth Myers (born abt 1822) marries William Buck and they have 6 children. Some of the original Myers Property stays in a Buck family members possession until the 1950's.
Eunice is presumed to be their mother because of the declarations on Janes 1876 marriage records, and Elijah's statement on Eunice's 1884 death record.
SPELLING OF MYERS NAME - I have seen Myers (predominantly), Meyers(1861 census) and Mires.
James Boyce Sr. and Jane Myers were the parents of:
Herbert Boyce
:
Born February 1845. In 1870 he marries Mary Ann MacGorman born 1853 and they reside in Nassagaweya. They are found on many of the Canada census' from 1891 forward near Hamiota Manitoba. On the 1861 Canada census Mary Ann MacGorman is 8 y.o. and she and her family are found on the same page of the census as James Boyce (b. 1848) and his grandfather Peter Myers (b.1781). So she lived close to her future brother-in-law, was near the same age, and probably attended the same school. Mary MacGorman and James Boyce were witness in 1869 to the marriage of James Darrah. James Darrah was a witness to the marriage of Herbert Boyce and Mary MacGorman in 1870.
Matilda Boyce
:
Born February 1847. In 1869 Marries Egerton Ryerson McKay born 1845. This family moves to the US in abt 1882 and is found in many US census in Sanilac, Michigan. On the 1861 Canada census Matilda is 15 y.o. and a servant in the home of the Methodist Minister (New Conexion) Frederick Haynes and his family.
James Boyce Jr.
:
Born May 1848. In 1872 marries Margaret Waldie born 1848. At the time James resides in East Flamboro and Margaret in Nassagaweya. They are found in 1875 living at Westover, Beverly Twnshp, Wentworth County on a search of the Halton Map. On the 1881 Census they are farming in Wentworth County. In about 1886 they move for a short time to Port Huron then Brown City, Michigan and later (abt 1892) move to farm near Miniota Manitoba where they reside for the rest of their life, and raise 9 children (including my grandfather Ernest Brock Boyce).
Margaret Waldie
(wife of James Boyce Jr.):
Was born near Hamilton or Brantford, Ontario. Margaret's parents were William Waldie (b. 1822) and Christine Davidson (b. 1821) both born in Scotland. Her grandparents were William Waldie (b. 1800) and Isabel Crozier (b. 1803) both born in Scotland. The Waldie's immigrated to Canada in 1832 and settled near Brantford Ontario. William Sr. and Isabel lived into their 90's and are were buried in Oxford Ontario in the 1890's.
contact me at
Jim@JimBoyce.com
with any information you might have or if you feel I can help you .
Some pictures of the James Boyce

Jr.

family.
James Boyce Jr. and Margaret Waldie in 1872. (this is possibly a wedding picture)
First Boyce farmhouse near Miniota, MB about 1892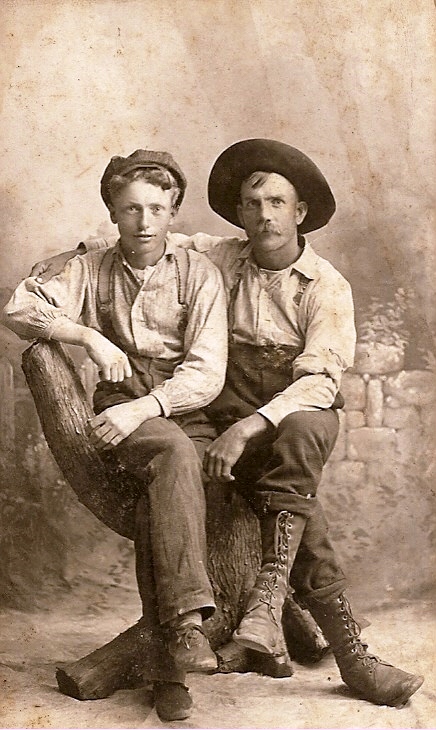 William James (Billy) and Ernest Brock Boyce... about 1895

Boyce family near Miniota, MB abt 1906, Back-James Margaret Mid-Brock Olive Ethel Rose Christene Frt-Charlie Pearl Lottie Billy



Boyce family near Miniota, Manitoba abt 1905



Boyce, E.B.(Ernest Brock) - Threshing near Miniota 1906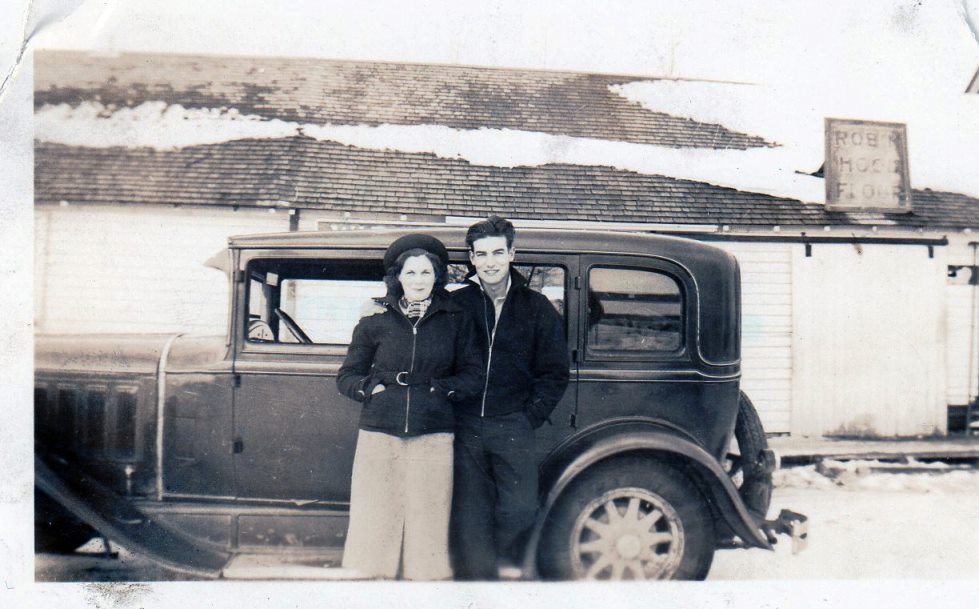 Jim & Elsie Boyce aboutt 1939 Alberta